Arezzo Sight
Cathedral of the Saints Pietro e Donato
Situated in the upper portion of the city the cathedral was built over the site of an Early Christian church; it is the principal religious building of Arezzo and is dedicated to Saints Pietro and Donato and is famous for its seven outstandingly beautiful stained glass windows, work of the master French glazier Guillaume de Marcillat. Among other treasures, the Duomo also houses the small fresco by Piero della Francesca ('Maria Maddalena'), and some terracottas by Andrea della Robbia.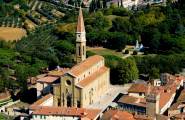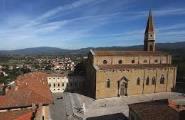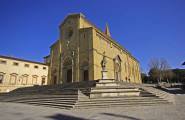 Piazza Grande
The Piazza Grande, also known as Piazza Vasari, is in all probability situated on the site of the ancient Roman Forum. It offers a bewildering collection of architectural styles, including Palazzo Lippoli and Palazzo Cofani, the apse of the Pieve of Santa Maria, the Court House and the Palazzo of the Fraternità dei Laici. The Piazza, trapezoidal in shape and sloping downwards, is also home to the Antiquarian Fair and the Giostra del Saracino, a medieval jousting tournament.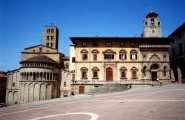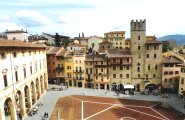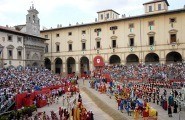 Basilica di San Francesco
The Basilica of San Francesco historically speaking is the second Church of Arezzo and is probably its main attraction. The Basilica is a structure with a single nave and is built in stone and brick in simple Gothic style. The Main Chapel hosts the famous cycle of frescoes of the 'Storie della Vera Croce', a masterpiece of the Renaissance painted by Piero della Francesca between 1452 and 1466.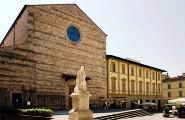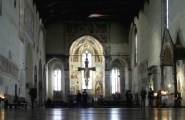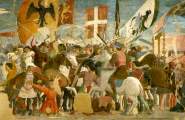 Cortona
The main tourist and cultural centre of the Val di Chiana, Cortona has a strategic position within easy reach of a number of the Tuscan and Umbrian città d'arte as well as nearby Lake Trasimeno. Set on a hill and surrounded by curtain walls, this small town is rich in tourist attractions, from Etruscan and Roman remains to a number of fine churches.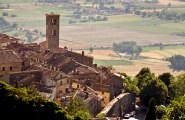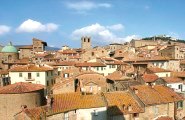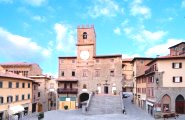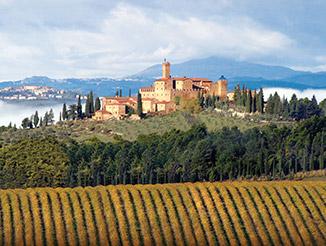 Northern Tuscany Hotels and Villas
Hotels and Villas East Tuscany
Hotels and Villas in South Tuscany