Pisa and Lucca Sight

Piazza dei miracoli, Pisa
Piazza Duomo, although not situated in the vicinity of Pisa's historic centre, welcomes hordes of tourists of all nationalities, who visit Pisa to admire the marble wonders which have made it famous.
The imposing Cathedral, the original Baptistry, the monumental Campo Santo and the world-famous Leaning Tower… white marble forms which stand out vividly against the green of the lawns of Piazza dei Miracoli, in the unique atmosphere of a location unequalled in the rest of the world.
Where to sleep? Bagni di Pisa Palace & Spa >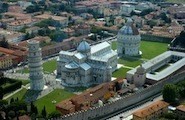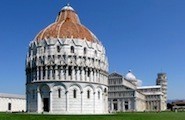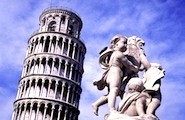 Piazza Anfiteatro, Lucca
Built over the remains of the ancient Roman Amphitheatre, this square maintains the same shape and name. One of a kind is the picturesque procession of buildings of varying height which border the square, with access exclusively from four vaulted entrance points. The Square, the former site of the city market, is today the hub of city life, the social amphitheatre of lively Lucca.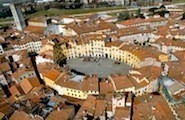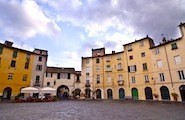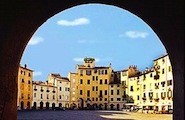 Torre Guinigi, Lucca
An imposing structure built by a rich merchant family who gave it its name, the Guinigi Tower has become one of the symbols of Lucca, almost the only survivor of the more than 250 towers which marked the importance of the city in medieval times. One curious characteristic of the tower – built in stone and brick – is its hanging garden of secular ilex trees, planted on the summit, seen as a symbol of rebirth.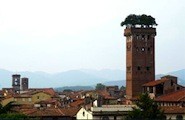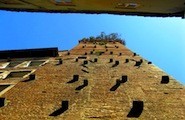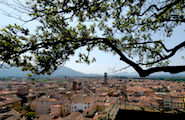 Le Mura, Lucca
Stretching for more than 4 km, Lucca's curtain walls are the greatest example of modern fortification in Europe. One curious fact - its walls never served as protection from assault or siege but quite simply acted as a deterrent against any form of attack. Today the walls and the surrounding gardens are the green lungs of the city, much frequented by the inhabitants in their leisure time and also used for numerous cultural events and shows.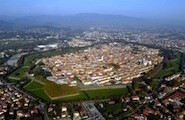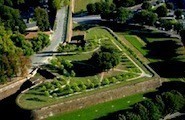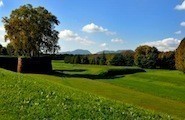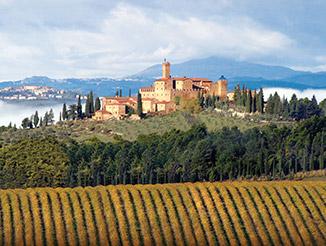 Northern Tuscany Hotels and Villas
Hotels and Villas East Tuscany
Hotels and Villas in South Tuscany