Siena, the Val d'Orcia and the hills of Chianti
First-time visitors to Siena will undoubtedly be struck by the wealth of its artistic legacy and the beauty of its historic centre, declared by UNESCO to be a World Heritage site.

The finding of Etruscan archaeological remains in the historic centre leads us to believe that the city was founded by the Etruscans. It was an important trading crossroads in Roman times, and it consolidated its strategic position in the Middle Ages, and indeed rivalled Florence for the domination of northern Tuscany.

These two cities still today 'dispute' each other's dominion over Chianti, a territory of unrivalled natural beauty and food and wine riches, with fascinating towns and medieval castles. But the true jewel in the crown of this area is San Gimignano - the city of towers - which shares with the municipalities of Chianti the splendour of the Middle Ages.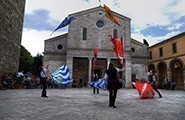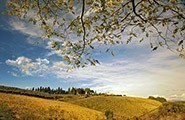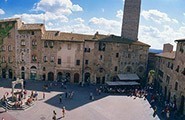 To the south of the city, we find the Val d'Orcia, an important nature, artistic and cultural park, recognised by UNESCO as a World Heritage site, since it is "an exceptional example of the way in which the natural countryside was re-designed in Renaissance times to mirror the ideals of good governance and to create an aesthetically pleasing image".

The city of Siena rises on three hills which converge in the pulsing heart of the city - Piazza del Campo - an imposing square with a distinctive shell shape.

Via Pellegrini links Piazza del Campo to the nearby Cathedral of Santa Maria Assunta, Siena's Duomo, whose imposing marble structure is matched by an interior of spectacular beauty, and whose masterpiece is its floor – unique of its kind.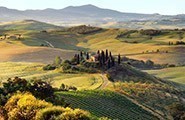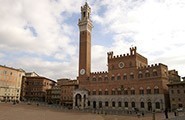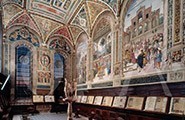 Right in front of the Duomo is the former hospital of Santa Maria della Scala, which up until a few years ago still functioned as a hospital but is now a museum complex where visitors can browse among the art treasures of the National Archaeological Museum and visit its mysterious underground regions.

Just a stone's throw from Piazza del Campo is Piazza del Mercato (Market Square), where at one time the cattle fair took place; it is marked by its particular 19th century arcade, known as the "Tartarugone".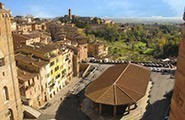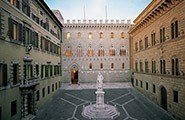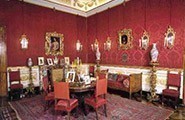 Since they are grouped quite closely, the city's attractions can be visited in just a couple of hours, but Siena's beauties in actual fact are conceded little by little: a stroll through the city brings you to the beautiful Piazza Salimbeni, pass through the stylish Via di Città and you will discover the private collection of the prestigious Chigi-Saracini Palazzo.

As well-known as the beauty of the city's historic centre are the mad antics of its inhabitants – something we invite you to discover for yourselves!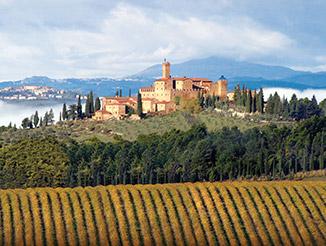 Northern Tuscany Hotels and Villas
Hotels and Villas East Tuscany
Hotels and Villas in South Tuscany