Florence
A city and a spectacle.
Florence, with its immense cultural and artistic patrimony, is universally recognised as one of the most beautiful cities in the world. As it is set in a charming amphitheatre of green hills, vantage points such as the hill of Fiesole offer stunning views of the whole city.

Italy's eight largest city, Florence was already an important centre in the Middle Ages, but reached the height of its fame and influence in the Modern Age under the Medici family, who sponsored the creation of much of its artistic heritage. It was Italy's capital city from 1865 to 1871.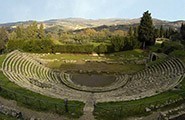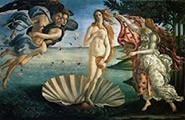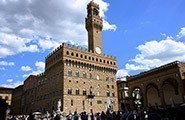 The title "cradle of the Renaissance" sums up in full the artistic and cultural riches of the city, a true open-air museum which offers visitors the sight of majestic basilicas, squares crowded with monuments and of course art galleries with a plethora of great works.

The beating heart of the city is Piazza della Signoria, flanked by the Palazzo Vecchio, the city's ancient centre of power, the Gallery of the Uffizi, one of the most frequented museums in the world, and the Loggia dei Lanzi, with its white sculptures. Just a few paces further on, we come to the majestic Piazza Duomo, with the imposing Cathedral of Santa Maria del Fiore , Giotto's Campanile and the Baptistry of San Giovanni.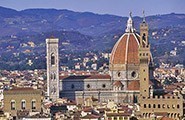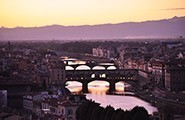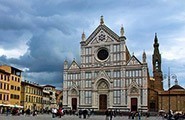 No postcard from Florence can omit the picturesque Ponte Vecchio, one of the city's indelible symbols, and the only bridge in the city not destroyed by the Germans during WWII.

Another symbol of Florence is the Basilica of Santa Croce, which also gives its name to the picturesque square facing it, at one time the site of the most historic games of Florentine football, and where still today is played out the Torneo dei Quattro Quartieri (the Four Quarters Tournament).

Another monument not to be missed is the Basilica of Santa Maria Novella and Romanesque San Miniato a Monte, in the area of Piazzale Michelangelo, without any doubt the most impressive and characteristic of the city's observation points, offering a panorama not to be missed, especially at night time.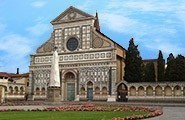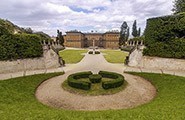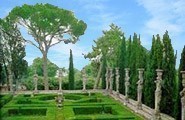 Testifying to the noble history of Florence there is also a splendid legacy of civil architecture, with exceptional examples such as the Palazzo Medici Riccardi , Palazzo Strozzi and the imposing Palazzo Pitti, which hosts galleries and collections of various types.

So, our advice? If you decide to visit Florence, don't forget several pairs of comfortable shoes: the city's exceptional beauties are not all walled in museums; they are to be discovered by breathing in its streets, crossing the Ponte Vecchio, strolling round the stalls of the open air market of San Lorenzo or relaxing in the Boboli Gardens.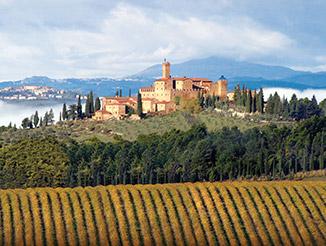 Northern Tuscany Hotels and Villas
Hotels and Villas East Tuscany
Hotels and Villas in South Tuscany