Arezzo and the Valleys
The city of Arezzo was founded in pre-Etruscan times (in an area inhabited in prehistoric times) at the meeting point of three valleys, Casentino , Valdarno and Val d i Chiana. A natural passage for crossing the Appennines, its position made Arezzo a strategic centre in Roman times.

The symbol of the city is the Piazza Grande, a blend of various architectural styles achieving a harmonious balance. The square hosts the Giostra del Saracino, a horse race which also brings together a stylish procession of actors wearing medieval costumes.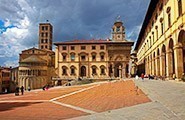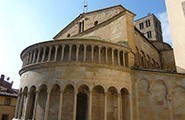 The very ancient Pieve di Santa Maria is felt by many to be the most beautiful Church in Arezzo, and one of the best expressions of Romanesque art in Tuscany. Other interesting religious buildings are the Church of San Domenico and the Basilica of San Francesco, which contains a striking collection of masterpieces, including 'The Legend of the True Cross' by Piero della Francesca. Nor should we omit mention of the Gothic Cathedral of San Donato, set at the summit of a 14th century flight of steps and with some splendid stained glass windows.

There is no lack of museums such as Petrarca's House , the Diocesan Museum , the Museum of Medieval and Modern Art and the Mece nate Archaeological Museum. The richly frescoed walls of Palazzo dei Priori, now the City Hall, are also well worth a visit.
Traces of Roman domination are to be found in the great Amphitheatre built in sandstone and brick, to one side of which was built a convent of the Olivetans, today an Archaeological Museum.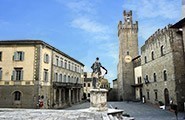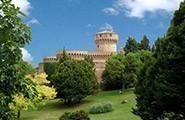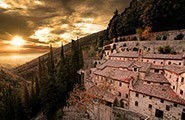 A splendid panoramic view over the city can be enjoyed from the Medicean fortress on the Hill of San Donato, near which is the most ancient and charming of the city's parks.

Also well worth a visit is the main cultural and tourist centre of the Arezzo portion of the Val di Chiana: Cortona, one of the most characteristic cities of central Italy, which preserves evidence of its 3000 years of history.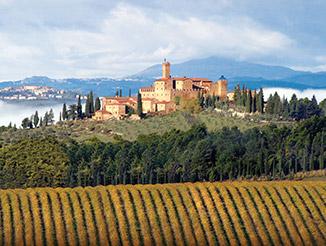 Northern Tuscany Hotels and Villas
Hotels and Villas East Tuscany
Hotels and Villas in South Tuscany